Politics
"I think we are in this moment, though, where things are kind of breaking loose; they're becoming unmoored. There's this sort of terror that everyone's living inside their own universe, in their own reality, and their own kind of construction. There's not a lot of analytical frameworks out there that are shared or even systematic."
From Tiananmen Square to the trans-Atlantic slave trade, writing national histories has been the task of rulers and governments. But newer social movements are challenging whether the role of history is to glorify state heroes and condemn enemies, and instead offer self-critical histories.
For generations, people have been renaming foods for political reasons. Although Americans in our time are infamous for changing French fries to freedom fries, they aren't the only folks who've put politics on the plate that way. Indeed, everyone from the French and Russians to the Iranians and Arabs has done something similar in the past 150 years. And they've done so while otherwise naming and handling foods politically, sometimes during strategic struggles and sometimes to score cheap jingoistic points.
For decades, the American left has pushed faith to the margins of political life, even as the right has embraced it as part of the culture wars. But post-9/11 culture wars and foreign wars are creating alliances among liberals that are bringing it back to the center.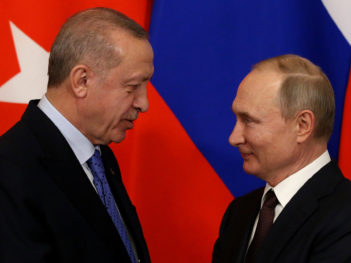 The alliance has proved remarkably enduring, and rarely have Russia and Turkey enjoyed such a stretch of fruitful cooperation. But so much hinges on the personal relationship between Putin and Erdoğan. Not even they can change the brittle nature of a relationship between two powers that have been rivals for centuries.
A century after the end of the Ottoman Empire, no successor to Istanbul's sultan-caliph has emerged