Podcast
Erich Schwartzel, the guest in Episode 4 of New Lines' Wider Angle podcast, is a journalist and author of "Red Carpet: Hollywood, China, and the Global Battle for Cultural Supremacy." He joined Riada Asimovic Akyol to discuss China's challenge to Western liberal democracy through the country's dissemination of its movies.
"The nature of war is hatred and fury, but it's mitigated very quickly when a new enemy comes to the scene. The idea that we should chase all of these Nazis and punish all of them, was wrong. Because it meant that while there was still rage, while the war was still remembered, the Allies wasted their time hunting all sorts of small fry. If you really want to punish war criminals, choose the people who were the worst and focus on them. The people who operated the gas chambers, the concentration camp guards — if those people were executed, I would have been happy to pardon all other Germans."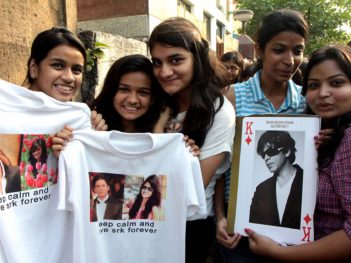 In this episode of New Lines' Wider Angle podcast, guest Shrayana Bhattacharya, an economist and author, discusses the dynamics of gender relations in today's India told through profiles of diverse women often divided by caste or class but united in their fandom of global movie star Shah Rukh Khan.
"When we have a technology that can spread lies so quickly and so far, and when we have a legal system that has basically let media companies operate with minimal regulation, there is an open door to falsehood."
Riada Asimovic Akyol speaks with Andrew Whitehead, one of the foremost scholars of Christian nationalism in the United States. They discuss the perceptions of Christianity's relationship to American identity and civic life as well as the findings of Whitehead's research about "Christian nationalists" among different ideological adherents and traditions.
"There are tales of a statue in Cadiz which speaks, or cities of bronze in the desert. I don't think that people in the past were necessarily naive or necessarily taken in by these kinds of stories, but the world was much more mysterious. There were lots of places where most people had never been and would never go and really weren't quite sure whether these things existed or not."
Award-winning journalist Sally Hayden joins Riada Asimovic Akyol to discuss findings of Hayden's investigation about migrants inside Libyan detention centers. These refugees from different parts of Africa are seeking safety and are trying to get protection in Europe by crossing the Mediterranean Sea.