Reportage
Around half the workforce employed in Italian agriculture are migrants. Denied fair wages and exploited by employers, a new racial apartheid has emerged in one of Europe's largest exporters of fruit and vegetables.
For Syrian Armenians, the apparent entry of their compatriots into the Nagorno-Karabakh conflict seems to confirm all their suspicions about the role of Turkey, which also supported rebel factions in Syria, and that the true purpose of helping Azerbaijan retake territory is Turkish irredentism.
Demonstrating political affiliation is just one aspect of Turkish names. Names tell the whole story of the country's complex society. When you look at Turkish names, it opens up all of the different dynamics of history, societal cleavages, understandings of class and gender, and political expectations.
As the gardening solution has done nothing to significantly reduce the problem of unemployment, so has it failed in its mission to buy social peace. Thousands of unemployed continue to protest in these regions, and industrial activity continues to be interrupted; even those with phantom jobs are getting restless.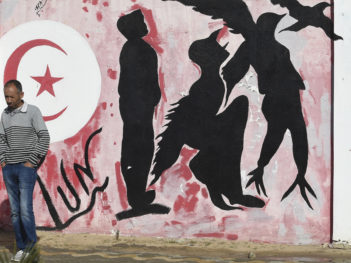 Tunisia, today, remains mired in corruption and offers few prospects to its youth; it is a very different country than the one dreamed of by the thousands who took to the streets inspired by Bouazizi. A returning ISIS fighter on the systemic dysfunction that has set so many of its youth on the path of radicalization.
Among the Egyptian exiles who left the country after Abdel Fattah al-Sisi came to power, dozens are journalists and media professionals who were dispersed around the world as Egyptian authorities tightened their control over privately owned media.
Sea shanties provided solace and strength for sailors on merchant ships across the world. Until well into the 20th century, their haunting melodies were sung by Gulf sailors all across the Indian Ocean. Today, they are being rediscovered and adapted as a modern form of cultural expression.