First Person
In these past 10 years, the Bahraini regime has come up with new ways to torment my father. Prisoners have nothing, so the prison administration grants them certain requests only to then take them away. The regime wants prisoners to suffer beyond the prison term and the torture.
What shocked me as I listened to al-Assad was his lack of hesitation in telling an American diplomat point-blank that the Shebaa Farms — the entire basis for Hezbollah's claimed status as the "Lebanese Resistance" — was not Lebanese; it was Syrian.
Alex Skolnick is a virtuoso musician best known as the lead guitarist for thrash legends Testament and his own jazz trio. When he started weighing in on politics, he was told to "shut up and play your guitar." In an essay for Newlines, he writes about the responsibility of artists in a time of political turmoil.
The outbreak of the Syrian uprising caught Israel by surprise. Here a former negotiator considers how close Syria and Israel got to a peace deal before the revolution – and how, as the civil war unfolded, Israel's thinking evolved on how to respond to the war next door.
The regime's barbarity was known to us, but it had now crossed President Barack Obama's red line and U.S. retaliation seemed imminent following the chemical attacks of 2013. What followed, however, was silence and inaction. And the consequences were catastrophic. I know because I was there to witness it.
For fifty years, just one family has ruled Syria. But even that rule, long and brutal though it is, will have an end, and a new Syrian story can begin.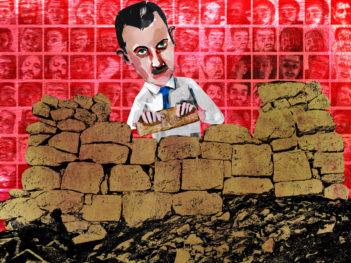 I defied the regime of Hafez al-Assad in Syria since its very inception, and I spent 13 years in prison because of it. I saw how he rebuilt his reign of terror from the bones of his people after he defeated the insurgents in the 1980s. His son will accept no less.