First Person
As a child, all I wanted was to grow up and become a journalist, to travel to foreign lands and share stories of my country. That wish became reality. But now, each night, I have the same dream — I am safe, and I am not a war journalist. Then I wake up, to what has become my nightmare.
Most Germans with whom I interacted seemed to agree that their country lost its right to celebrate its culture and heritage, given the last time Germany did such a thing. Many of the Syrians who live there have adopted the same negative view of looking back.
In 2009, I was 13 years old and I had taken fashion into my own hands. I loved designing new clothes, imagining how I could stand out from the crowd. It became an obsession, the only thing on my mind. Then the Taliban came, again and again.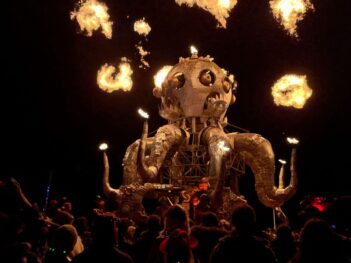 This year and last have brought some of the more aberrant weather patterns for Burning Man, which cannot escape the extreme weather of climate change. But depictions of a humanitarian disaster complete with ridiculous rumors on social media of an Ebola outbreak made me think of other disasters, like war and the falsehoods they beckon.
The bombings and shelling may have abated, but today's "postwar" Syria is awash with psychological weapons and injuries. People cannot fathom their present, let alone see any future. Without active clashes to blame, what "after" is there to hope and pray for?
Faced with increasingly hard choices, Muscovites may be trying to will stability back into reality. But their studied indifference is only skin-deep and, as the Kremlin's war reaches uncomfortably close to home, Russia's urban middle class is rattled.
Even though Lebanon's art scene is among the sectors most affected by its economic crisis, playwrights, musicians and comedians continue to put on shows, often expressing their feelings about the corrupt ruling class and the country's ongoing problems.