Authoritarianism
"They're ruthless. They have no moral code. They are opportunistic. They will be whatever the public needs them to be at that moment."
What if you discovered that everything you knew about the world was wrong? As a teenager in Albania, that's exactly what happened to political philosopher Lea Ypi when the communist regime collapsed in the '90s. On The Lede, she joins New Lines' Faisal Al Yafai to talk about how to see the gap between ideology and reality, where people look for certainty in uncertain times and what it actually means to be free.
New Lines contributor Olivia Snaije and contributing editor Lydia Wilson speak to Faisal Al Yafai about recent articles they wrote exploring how the Middle East's ancient heritage continues to shape modern politics — and how the story of a nation depends on who's telling it.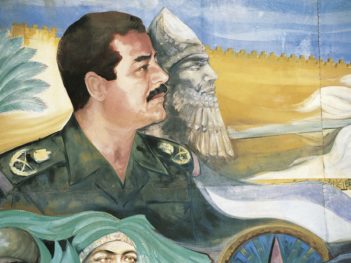 Both Saddam and Assad recognized the value of their countries' archaeological heritage and adapted it to suit their interpretations of what they thought the Baath Socialist Party should be.
New technologies are allowing activists to document Syrian war crimes and even topple dictators. But from Iran to Tunisia to Israel to Russia, nation-states are reasserting their power. If cutting-edge digital tools have given activists new weapons, they have, at the same time, allowed governments to acquire entirely new — and secretive — digital arsenals.
Satire won't change anyone's mind, but it might get someone sitting on the fence to consider another perspective. Satire won't topple thrones, but it will unsettle their occupants. It won't change rules on freedom of speech (except maybe in the wrong direction), but it will remind people what freedom of speech looks like.
For fifty years, just one family has ruled Syria. But even that rule, long and brutal though it is, will have an end, and a new Syrian story can begin.