War
For Syrian Armenians, the apparent entry of their compatriots into the Nagorno-Karabakh conflict seems to confirm all their suspicions about the role of Turkey, which also supported rebel factions in Syria, and that the true purpose of helping Azerbaijan retake territory is Turkish irredentism.
Nearly 30 years had passed since Tim Mackintosh-Smith made a trip to a mountain by the Yemeni coast. Sitting in Sanaa, with the war raging around him, he tried to put into words a mirage that seemed so real at the time.
Many fishermen have given up their fishing nets and skiffs to join the war effort on various fronts, and many send their sons — as soon as they come of age — to do the same.
While Azerbaijanis are happy a significant amount of territory has been returned to their country's control, some are concerned that they've traded Armenian occupation for a Russian presence.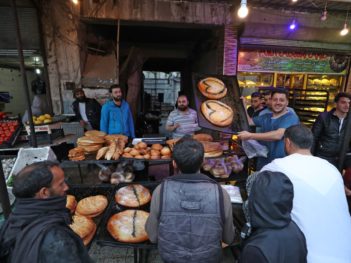 Food, especially in a country so famous for its cuisine, is not just about nutrition; it is also about culture. What do you do when you can't afford the food? You stop inviting people, apart from the ones you don't feel embarrassed in front of when you can only serve coffee.
No one escaped Raed Fares' brutal criticism: U.S. presidents, Russia, Iran, the United Nations – everyone who was witnessing the Syrian war and doing nothing to stop it.