As a young child, one of Ramchandra's favorite toys was a small wooden truck painted in sunny yellow with bright red edges. Wheeling it on the floor, Ramchandra would watch his grandfather's hands work magic on the chiseled wood, slowly transforming it into something entirely different: a doll, an action figure, a movable toy car and more. It wasn't long before he joined his grandfather in the craft. Today, 63-year-old Ramchandra is one of the many accomplished craftspeople in the Kharadi community, which is known for making wooden lacquerware toys in Varanasi.
Varanasi, also known as Benaras or Kashi, is a city in the north Indian state of Uttar Pradesh. With a rich cultural legacy, Varanasi is perched on the banks of the Ganges River — making it a holy site for Hindus and a popular tourist destination among international tourists. Another reason for its popularity is the city's rich handicraft industry, which includes the wooden toys that take shape in the tiny workshops that dot the busy neighborhood of Khojwan. Here, about 3,000 toymakers work hunched over, polishing, chiseling, carving, cutting and curving the wood on a lathe.
"This process of 'turning' wood is called Kharad, which is why our community is called Kharadi" Ramchandra explained to New Lines. He operates the lathe on a small wooden block and then holds up a smooth spinning top — one of the most basic among the community's intricately handcrafted wooden toys, which include matryoshka dolls, kitchen sets, movable figurines, mythological idols and many others.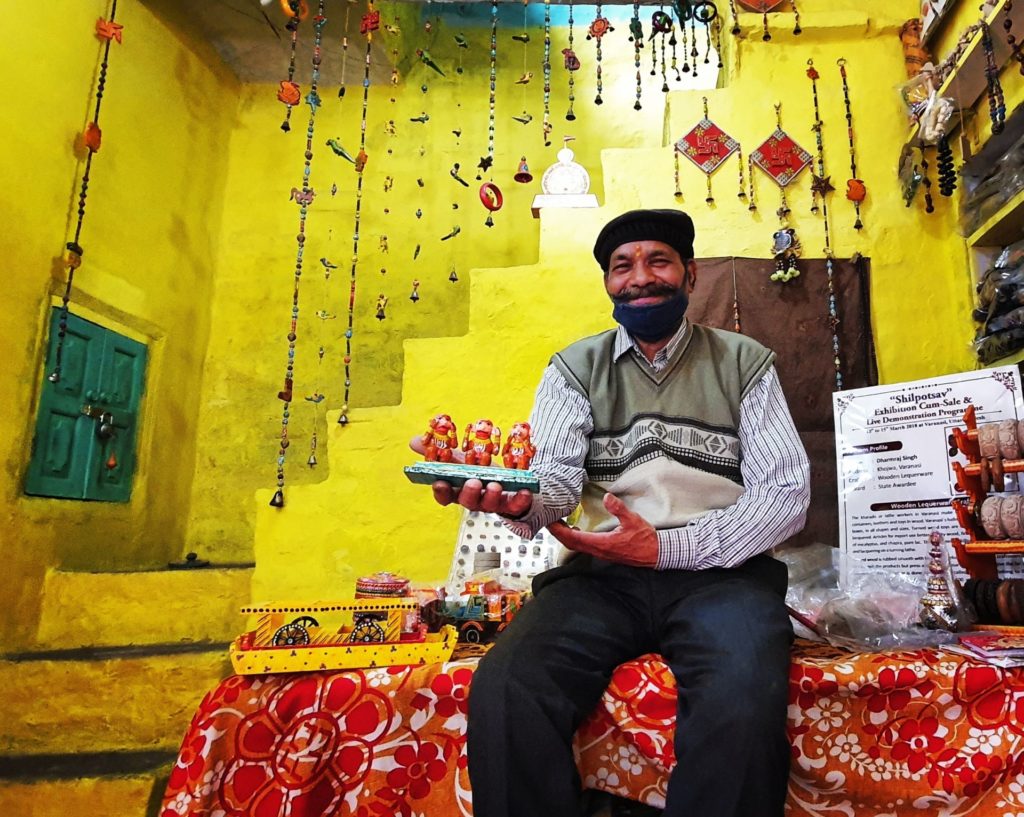 Some of these toys are displayed in Ramchandra's showroom, which doubles as a living room. The bright colors of the toys complement the pale blue walls adorned with several framed certificates acknowledging his artisanship. But the accolades are not his alone. Ramchandra's 38-year-old son Dharamraj, too, takes the family legacy forward by being an accomplished craftsperson. Together, both of them run their venture, Namrata Wooden Handicrafts. "Ours is a genealogical craft passed down through the families of Kharadis for generations," Dharamraj told me.
Tracing this genealogy to the 17th century, some suggest that the community was initially patronized by the Mughal emperors and the British for ivory carving, but the craftspeople had to move on to wood carving when the government of India banned the sale of ivory in 1986.
However, Ramchandra believes the beginnings of Varanasi's woodworking goes back to the age of Ramayana (a Sanskrit epic said to have occurred about 7,000 years ago that is an important part of Hinduism's religious history) when their forest-dwelling ancestors started using wood to carve gift items. One of the first products made was Sindoora — decorative containers to store vermilion — as some Hindu customs require wedded women to wear vermilion on their forehead. The foray into toys happened in the same era with the making of baby rattles.
While both these products still continue to be high in demand, the variety and designs have continued to evolve in this industry, which is currently valued at about 300 million Indian rupees ($4.1 million U.S.). The toys are usually made to order for exporters and retailers, but some are displayed on sale in their showrooms.
Making wooden toys is a labor-intensive craft that requires not only mastery of the lathe but also meticulous attention to detail and expert artistry to carve intricate designs on the products. Depending on the size of the toy, pieces of wood are first cut from the logs. To remove moisture, the pieces are heated and then smoothened. Then the toys are shaped on the lathe and sculpted by using hand tools. Before carving, the design is drawn onto the piece. Finally, the toys are painted and polished with lacquer.
About 200 families in Varanasi's Khojwan neighborhood are engaged in this elaborate process, and several among them have gone on to become award-winning shilpkaris, or master craftspeople. They usually employ contract or daily wage kaarigars, who are skilled and semiskilled craftspeople, from within the community to work with them. These kaarigars are usually entrusted with the initial processes, but some also work on more complex designs with the master craftsperson.
"The time required to make each toy not just depends on the size and the detailing it requires, but also on the type of wood used," said the 59-year-old Rameshwar, a national crafts awardee and owner of the Balaji Toy Showroom.
Just outside his workshop is a board that lists the three kinds of wood and their use within the industry: keria (coraiya) and eucalyptus wood, which is mostly used for the turning craft; goolar wood, which is used for making idols and figurines; and the earthy-colored kaima wood, used for intricate carvings on items that do not require any color.
"Earlier, we would use keria wood as it's soft and easy to work on. But the government imposed restrictions on its logging in 1984, and we moved towards alternatives such as eucalyptus. It does not provide us with the desired finish and also requires a lot of paint," Rameshwar said. He encourages the preservation of the environment, so he reiterated the idea that his community usually sources wood from naturally fallen trees or plants.
The ban on keria is not the first challenge that craftspeople have faced. In the past few decades, their toys, like most indigenous craft products, face stiff competition from the cheap, mass-produced, made-in-China toys that, according to the Indian publication Gaon Connection, have captured almost 80% of India's toy market. The same report suggests that 400 items of wooden toys have been discontinued because of low demand.
The plight of these toymakers has received some attention and government initiative, which has included funding exhibits and training. India's Prime Minister Narendra Modi introduced a Make in India initiative that aims to encourage locally made products, and this campaign has been something of a boon for the toymakers. When Modi came to power in 2014, Varanasi toys were given the GI tag (Geographical Index), which certifies to customers that the toys are part of a genuine local craft.
However, many artisans feel that these benefits have only reached the master craftspeople who operate their own private workshops. The kaarigars who work in these private workshops have continued to struggle financially, and they receive no credit for their artwork.
Kumar, 55, is one such kaarigar. He works at the Balaji workshop, chiseling wood by hand with a small knife. He hardly flinches as his long, blackened fingers shape the wood into animal figurines in what looks like a seamless effort. "As a kaarigar, I can hardly expect any credit for my work, but that is our fate," he told me. Other kaarigars, like Lal and Raghu, who operate lathe machines out of their own rented space, hope to receive discounts from the utility companies on their electricity bills, the cost of which are high because of the lathe machines. But such discounts, even if promised under government initiatives, have so far been elusive.
Then came the lockdown imposed by the COVID-19 pandemic, which has brought the industry almost to a halt, making the lives of the low-wage craftspeople all the more precarious.
Under the "Shramik Bharan Poshan Yojana," a government welfare scheme launched on March 21, 2020, to help daily wage laborers affected by the lockdown, some artisans were entitled to a stipend of 1,000 Indian rupees (about $13 U.S.) per month for three months. But accessing this subsidy was initially a bureaucratic challenge for many artisan families as they were yet to renew and receive their "artisan card," which is a card issued to all indigenous craftspeople in recognition of their skill. The artisan card is key and has to be linked to the Aadhar card — the national ID issued by the Unique Identification Authority of India — for them to be able to access any welfare schemes directed toward them.
One young artisan, Uday Raj Kunder, came to the aid of his community. Using the platform of the Khilauna Udyog Sahkari Samiti (Toy Industry Workers Committee) established by his national award-winning grandfather Godawari in 1953, Uday documented the information of the various artisans and applied for their artisan cards. Holding up a bulky set of documents, Uday said that the government is trying to help with its initiatives, but the implementation needs to be less bureaucratic and more efficient at the grassroots level.
The 28-year-old works out of a small workshop in his house with his showroom doubling as an office. He is one of the very few younger people to have continued family legacies of wooden toy making. Most craftspeople do not want their children to continue the craft because they don't see a future in it, preferring an office job.
But Uday feels differently. "Making toys is my passion, and my business degree equips me to constantly innovate this craft and its business and take it much beyond toys," he said while holding up his latest design, a striped, multicolored wooden wine bottle holder of which he has made 100 pieces for an order from a client in the United States. Uday is in the process of setting up an online shop.
As the grandson of a master craftsperson, Uday recognizes the privilege that equips him to continue the family legacy in such fashion. He credits not only his own success but also that of Varanasi's wooden toy making industry to Godawari. "My grandfather was the first one to diversify designs and make the first export back in the 1970s. I am currently penning his biography that includes such lesser-known accolades of his," Uday added.
Godawari, 82, no longer works but has a sharp eye for detail. He often supervises the government-mandated training sessions held in his house for semiskilled adults in artisan families.
The sessions held under a government scheme called Kaushal Unnayan Prashikshan Karyakram (skill upgrade training programs) come with a stipend. In an attempt to encourage young kaarigars to develop their skills and continue artistic professions, most established master craftspeople are required by the government scheme to train other artisans in their community.
Outside Uday's office, a training session is in full swing in a small two-room workshop. About eight artisans sit on the floor in two rows facing each other, cutting and hammering away on pieces of wood. But something is different about this group of artisans-in-training. Almost all of them are women.
Most artisanal industries in the region have been led by men, with women helping out with painting and packaging. Women's labor has rarely had separate financial remuneration in most indigenous art industries. But Uday is hoping to change this.
"Through these training sessions, we are particularly encouraging women within the community to take on wooden toy making, teaching them everything from sourcing the wood to carving a finished product," said Uday.
His statement resonates with the women. Kumkum, an 18-year-old trainee, is learning one of the first steps in the toy making process: smoothening. "Only after smoothening is it possible to shape and carve on it," she explained, holding up a sleek wooden block. It is the third day of training, and she is already excited to begin learning to carve. "I've seen my father do it all my life, and I've thought of so many designs to try out," she added. After training, Kumkum plans to pursue a fine arts degree from the local university, which she believes will give her even more of an edge in her craft.
Kumkum's co-trainee Usha Devi is much older and just as enthusiastic about the craft. She hails from the nearby town of Chitrakoot. The 35-year-old's husband and father are both kaarigars in the wood-carving industry. "I'm having a lot of fun and also making money. It's a good break from my parenting duties and domestic chores," she said.
Training programs such as these have proved fruitful to the community as more and more families who abandoned the craft are picking it up again. Being in the prime minister's constituency, the wooden toymaking industry of Varanasi has, no doubt, enjoyed much more attention and benefits than other indigenous art industries in the country, which continue to struggle. But even with the special focus, toymakers continue to face challenges, be it slow and inefficient implementation of government initiatives or the government's push for digitization, which has created a class divide within the community.
As for the toymakers of Varanasi, they seem to acknowledge their advantage. Carving wonders out of wood, they continue the legacy of making their toys in various colors and sizes — a metaphor, perhaps, for the varying degrees of hope that continue to shape the artisanal community.