Yemen
My grandfather Abdullah Al-Sallal, the first president of North Yemen, lived a long life filled with sacrifice, imprisonment, blood, tears, and ultimately triumph and victory, all for the greater welfare and prosperity of his beloved home, Yemen.
We are witnessing an intense scramble for control of the Middle East among mostly autocratic, disparate regimes, creating new alignments where the fabulous wealth of small states is conjugated with countries boasting larger armies, with proxies and mercenaries as expendable cannon fodder in tow.
Nearly 30 years had passed since Tim Mackintosh-Smith made a trip to a mountain by the Yemeni coast. Sitting in Sanaa, with the war raging around him, he tried to put into words a mirage that seemed so real at the time.
Sanaa's Change Square buzzed with excitement and anticipation, faded posters of long-dead Yemeni political figures underlining the feeling among many that it was a moment of historical reckoning, a moment of such profundity that even the past and present were scrambled.
It is true that at present the Turks and the Iranians are playing nice with each other, but these are ephemeral moments; their respective imperatives will lead them to collide with one another regardless of their subjective preferences.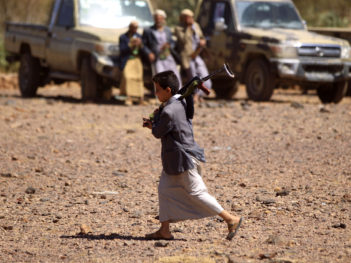 The reversal in U.S. policy — which was originally greenlighted by the Obama administration and continued under the Trump administration — leaves Yemenis with mixed feelings, though many are hopeful for a normalization of life. An undercover report from Sanaa.
Many fishermen have given up their fishing nets and skiffs to join the war effort on various fronts, and many send their sons — as soon as they come of age — to do the same.