Turkey
The 1940s and '50s were a golden age for Turkish travel writing. A growing number of Turkish visitors came to the United States, often sent by Ankara for technical training or invited by Washington for cultural exchange. These were boom years for the Turkish publishing industry, and visitors invariably wrote up their experiences in books and newspaper columns with titles like "Letters from America," satisfying a hungry audience.
For Syrian Armenians, the apparent entry of their compatriots into the Nagorno-Karabakh conflict seems to confirm all their suspicions about the role of Turkey, which also supported rebel factions in Syria, and that the true purpose of helping Azerbaijan retake territory is Turkish irredentism.
Demonstrating political affiliation is just one aspect of Turkish names. Names tell the whole story of the country's complex society. When you look at Turkish names, it opens up all of the different dynamics of history, societal cleavages, understandings of class and gender, and political expectations.
Food nationalism started with the formation of nation states and the breakup of empires in recent centuries. Cuisine, like political borders, became an effective tool for marking new distinctions, used by chauvinists and genocidaires as a weapon.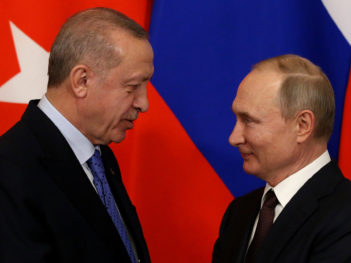 The alliance has proved remarkably enduring, and rarely have Russia and Turkey enjoyed such a stretch of fruitful cooperation. But so much hinges on the personal relationship between Putin and Erdoğan. Not even they can change the brittle nature of a relationship between two powers that have been rivals for centuries.
After a quarter-century of protests against the disappearance of their family members, Turkey's Saturday Mothers are weathering the COVID-19 pandemic by taking their vigils online.
It is true that at present the Turks and the Iranians are playing nice with each other, but these are ephemeral moments; their respective imperatives will lead them to collide with one another regardless of their subjective preferences.