Far Right
Israel's so-called government of change pledged to avoid controversial issues to ensure that the coalition remains afloat. But Israel's settlement lobby has settled deeper and more irrevocably into the heart of power.
While the attacks carried out by Palestinian citizens of Israel were extensive and deadly, the overwhelming focus on that violence prevented the emergence of a much-needed debate within Israel about its growing problem of Jewish radicalization.
In the midst of conflict in Israel and Palestine, award-winning journalist Rula Jebreal and +972 magazine cofounder Lisa Goldman, discuss politics, ideology and war with Newlines Magazine.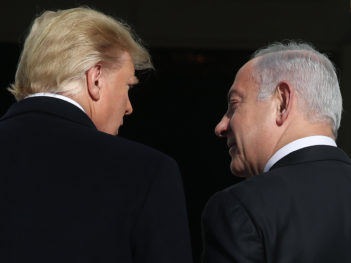 Since the killing of Yitzhak Rabin in 1995, Israel's politics have taken a distinctly right-wing turn, centered around Prime Minister Benjamin Netanyahu. The parallels between that journey and that of the Republican Party, as it grapples with the legacy of Donald Trump, are stark.
No one on the right wanted to hear that the U.S. threat environment was shifting from homegrown Muslim extremists aligned with al Qaeda to violent, right-wing extremists. As is customary with inconvenient intelligence, my work was politicized, and my team was dissolved.
The turn toward paranoid identity politics and demographic fetishism among ostensibly center-right parties on both sides of the Atlantic readily comports to the ideological discourses developed by Serb nationalists during the 1980s and 1990s.