United Kingdom
The pomp and ceremony of the farewell for Elizabeth II disguised a disunited nation where a dysfunctional center cannot hold and disaffected regions are peeling away.
Since the death of Queen Elizabeth II, the theory that she was a descendant of the Prophet Muhammad has enjoyed a resurgence. But whether the British queen had a Muslim princess ancestor, the theory's popularity speaks some harsh truths about postcolonial reality.
Whatever your feelings about the monarchy, queen, Commonwealth or empire, the passing of Queen Elizabeth II feels momentous.
But there is also a sense of ruefulness at times about such an institution and a bygone era it represents that nobody really remembers but surely must have been an improvement on today's regional malaise. After all, if we are to be led by absolute rulers, why not also have the prestige and pageantry?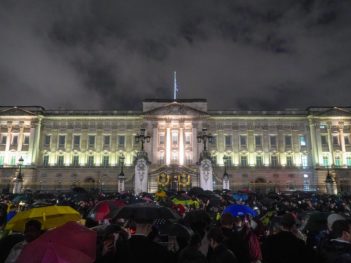 Following the death of Queen Elizabeth II, New Lines' Faisal Al Yafai speaks to Lydia Wilson, Amie Ferris-Rotman, and Kwangu Liwewe about what the passing of such a consequential figure may mean for the world.
Britain's response to the expulsion of Ugandan Asians 50 years ago has been celebrated as demonstrating great generosity. Yet little is said about Britain's attempts to prevent Ugandan Asians from coming to Britain, legal cases submitted to the European Commission of Human Rights or the newspaper advertisements taken out to warn Ugandan Asians not to settle in Leicester, even though these people were British passport holders. To say that Ugandan Asians were readily and warmly welcomed in 1970s Britain would be to offer a distorted history of immigration and asylum.
The way Britain's role in the Middle East is usually framed has continued to nag at me throughout my career as a historian — not least because of the accumulating evidence. Prime Minister Tony Blair's wars in Iraq and Afghanistan provided the clearest demonstration that Britain had never really withdrawn from east of the Suez or abandoned its role in the Middle East.