Culture
For Africans, the use of Arabic presents a dilemma: Without the historical role of Arabic, African writers would have been compelled to write in former colonial languages, but many also view the language as the medium of the slave trade that preceded trans-Atlantic slavery. Still, not everything magnificent on the continent must have originated elsewhere.
Much like native peoples in the U.S. have had to successfully balance their specific tribal identities within a larger pan-native identity so, too, the Bedouins of Jericho must negotiate between their identity as individual tribes, their larger identity as Bedouins and finally their national identity as Palestinians.
Ultimately, all the devil and his top demon want is to make a meaningful human connection. They feel tormented at the possibility that they may be incapable of such a thing after having spent eons in hell. And who could blame them?
It was a dark day. Like earlier generations, who remembered where they were when they learned of the great rock 'n' roll deaths of the '60s and '70s, the moment we heard of Anthony Bourdain's death will be forever etched in our minds.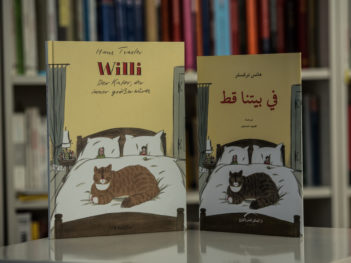 Arabs damned their own language through diglossia and denial. They have tried to elevate fus-ha, the only so-called true or pure Arabic, while working to discredit, disable, and even destroy dialects.
Today, it is hard to fathom any cuisine we consume in America without eggplants (from Indian and Chinese to Italian and Arab). But eggplant was not always popular, until Italian and Arab immigrants brought it, along with chickpeas and peppers.
Seven ancient Arabic odes are still unknown to the West despite having a bedrock status as "Beowulf" does in English: the mu'allaqat or hanging odes, so-called because they were allegedly stitched in gold and draped on the shrine of the Kaaba at Mecca as masterpieces.