Kremlin
The real issue here is not so much the denial of chemical attacks as the way it serves as a vehicle for normalizing conspiracy theories under the guise of critical thinking. Admirable though it is to view news reports and government statements with caution and scrutinize the evidence, the denial campaign was something else, encouraging people to reject information at will simply because it didn't fit their view of how the world works.
Russia is preparing to introduce a new generation of its GLONASS satellite navigation system, with expanded global infrastructure. Several Western intelligence agencies say the program is also being used to conduct high-level espionage.
But then there's the awkward fact that the Czechs themselves have, by their own admission, played a strong hand incredibly poorly, owing largely to the fact that high-profile members of their political establishment are more eager to represent Moscow's interests over Prague's.
Where did the notorious Wagner Group come from, and why has Vladimir Putin relied so heavily on Russian mercenaries in the last decade? Ruslan Trad argues it's because they're good for business, and they have a proven track record — from Soviet-occupied Afghanistan.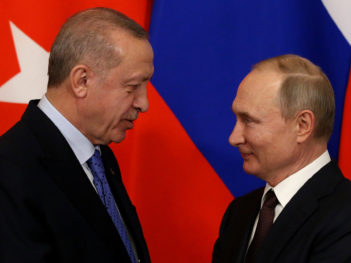 The alliance has proved remarkably enduring, and rarely have Russia and Turkey enjoyed such a stretch of fruitful cooperation. But so much hinges on the personal relationship between Putin and Erdoğan. Not even they can change the brittle nature of a relationship between two powers that have been rivals for centuries.
Exclusive documents reveal the role of a secret Russian intelligence section in propaganda and espionage operations.
"The drug was fugu poison. The Japanese use it for committing suicide. It comes from the sex organs of the Japanese globe-fish. Trust the Russians to use something no one's ever heard of."