Sanaa
It took years until the Saudis realized that there was a problem with the announced goal of their operation in Yemen to restore the legitimate Hadi government to its place in the capital, Sanaa: Hadi himself had no intention of returning to anywhere in Yemen.
My grandfather Abdullah Al-Sallal, the first president of North Yemen, lived a long life filled with sacrifice, imprisonment, blood, tears, and ultimately triumph and victory, all for the greater welfare and prosperity of his beloved home, Yemen.
Nearly 30 years had passed since Tim Mackintosh-Smith made a trip to a mountain by the Yemeni coast. Sitting in Sanaa, with the war raging around him, he tried to put into words a mirage that seemed so real at the time.
Sanaa's Change Square buzzed with excitement and anticipation, faded posters of long-dead Yemeni political figures underlining the feeling among many that it was a moment of historical reckoning, a moment of such profundity that even the past and present were scrambled.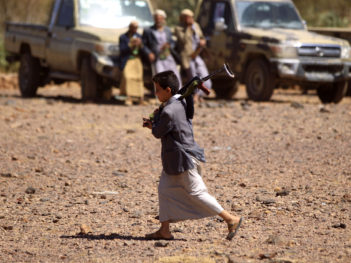 The reversal in U.S. policy — which was originally greenlighted by the Obama administration and continued under the Trump administration — leaves Yemenis with mixed feelings, though many are hopeful for a normalization of life. An undercover report from Sanaa.