Putin
The 2018 attack on Sergei and Yulia Skripal represented a grievous assault on Britain's sovereignty, but if you were to look at the position of Putin's cronies in Britain today, you might think the Skripal incident had never occurred. Russia's influence complicates Britain's preparation of sanctions over Putin's threatened invasion of Ukraine.
There's no talk of imminent invasion plans in Moscow, not on state media, not among political journalists, not among the political class. Even the Ukrainians themselves, supposedly in the firing line, don't seem worried.
Attempts to undermine the Organisation for the Prohibition of Chemical Weapons' investigation of the 2018 Douma chemical weapon attack involved Russian diplomats, Russian state media, WikiLeaks, and Julian Assange's personal lawyer.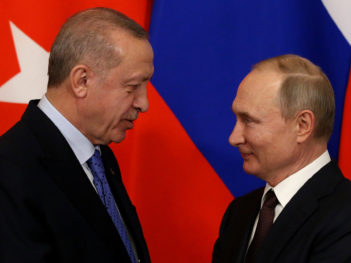 The alliance has proved remarkably enduring, and rarely have Russia and Turkey enjoyed such a stretch of fruitful cooperation. But so much hinges on the personal relationship between Putin and Erdoğan. Not even they can change the brittle nature of a relationship between two powers that have been rivals for centuries.