Russia
For Syrian Armenians, the apparent entry of their compatriots into the Nagorno-Karabakh conflict seems to confirm all their suspicions about the role of Turkey, which also supported rebel factions in Syria, and that the true purpose of helping Azerbaijan retake territory is Turkish irredentism.
The outbreak of the Syrian uprising caught Israel by surprise. Here a former negotiator considers how close Syria and Israel got to a peace deal before the revolution – and how, as the civil war unfolded, Israel's thinking evolved on how to respond to the war next door.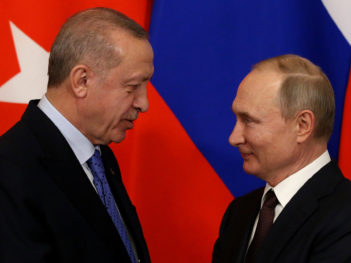 The alliance has proved remarkably enduring, and rarely have Russia and Turkey enjoyed such a stretch of fruitful cooperation. But so much hinges on the personal relationship between Putin and Erdoğan. Not even they can change the brittle nature of a relationship between two powers that have been rivals for centuries.
As Russia's demographics shift from a predominantly Slavic, Orthodox Christian population to one that is increasingly Muslim and non-Slavic, the country's very national identity is likely to evolve. One city shows the way.
Confidential contacts can be virtually anyone: politicians, diplomats, scientists, businessmen, engineers, and reporters. They have no state secrets to pass on, and the safest way of engaging them is in plain sight, under the guise of their everyday work.
While Azerbaijanis are happy a significant amount of territory has been returned to their country's control, some are concerned that they've traded Armenian occupation for a Russian presence.
Exclusive documents reveal the role of a secret Russian intelligence section in propaganda and espionage operations.